Sainte Foy Tarentaise
Altitude 1550m-2620m
15 slopes
4 Lifts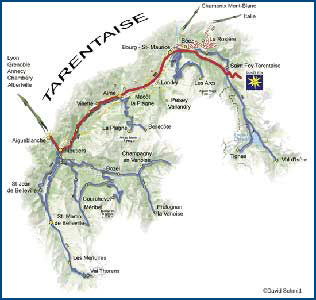 Click image for larger view.
Travel
By Air

Chambery one and a half hours away
Geneva, Grenoble, Lyon all around two and a half hours away
Cars can be hired from all of these airports.
Coach transfers from Geneva www.alpski-bus.com
Coach transfers from Lyon and Chambery at www.altibus.com
Coolbus, Taxi service based in Bourg St Maurice.
Offer discounts for Sunday transfers.
Up to 8 people per bus - www.thecoolbus.co.uk.
Alpincab, Fleet of luxury vehicles, Carry 1 to 22 people- www.alpinecab.com


By Car
From Dover the ferry will take around an hour and a half.
Driving from Calais will take around 10 hours.
Please note that all mountain passes are closed during the winter. To get to Sainte Foy you will need to drive via Moutiers, Aime and Bourg Sainte Maurice.
By Train
Eurostar service to Paris or Lille and change to regular SNCF service to Bourg St Maurice.
www.sncf.com
www.raileurope.co.uk
www.eurostar.com
There is no direct train route to Bourg Sainte Maurice on Sundays
Ski Passes
Adults: 2.80 euros insurance per day.
27.70 euros per day
149 euros for 6 days
501 euros per season
Children: (7 - 13 years old) 2.40 euros insurance per day.
20 euros per day
114.50 euros for 6 days
219 euros per season
Free for children under 7 years old on proof of identity and accompained by a skiing parent.
Free for senoirs aged 72 and over on proof of identity
Note: You will require a passport size photograph for your pass. We recommend that you take out Carre Neige insurance with your lift pass. www.carreneige.com
Ski Slopes and Lifts


Click image for larger view.
Ski Hire
All skiing and snowboarding equipment can be hired from:
Skiset
Tel: +33(0)4 79 06 99 95
www.skiset.com
ZIGZAGS
Tel: +33(0)4 79 06 94 20
www.zigzags.fr
Shuttle Buses
During the winter there is a free shuttle bus connecting Sainte Foy village to Sainte Foy Station stopping at the village of Le Miroir.
Ski School
ESF - Ecole du Ski Francais de Sainte Foy
Tel: +33(0)4 79 06 96 76
www.esf.net
ESF ski and snowboard instructors offer lessons for all abilities and offer group and private lessons. Private instruction is available between 12:00 and 14:30. Please book lessons directly with ESF by phone or on the ESF website. We recommend booking in advance during busy weeks to guarantee availability.
There are also a number of independent ski/snowboard instructors and guides working in the area. If you decide to ski off piste we strongly recommend hiring an experienced guide to show you the safest areas.
Bureau des Guides de Haute-Tarentaise
Fully qualified, experienced guides offering winter activities includiong off-piste skiing, cross-country treks and ski touring.
www.guide-montagne-tarentaise.com
Tel: +33(0)6 14 62 90 24
Progression Ski
British and International instructors offering ski, snowboard, telemark and off-piste lessons for all levels and age groups.
www.progressionski.com
Tel: +44(0)208 123 3001 (all year round)
Tel:+33(0)6 21 93 93 80 (winter in resort)